Basketball Balance Exercises
Balance Exercises As Seen In The NCAA Tournament
By Suzanne Stoke, Physical Therapist @ Exercise For Balance via www.exerciseforbalance.com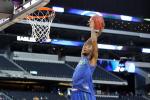 Balance exercises are on full court press in the NCAA Basketball tournament this March. Please see   http://www.exerciseforbalance.com/buy-now  I have so enjoyed the tremendous display of athletic and balance abilities by the phenomenal college basketball players. My favorite team to watch has been the
Florida Golf Coast University

. I must say that I had never heard of them before two weeks ago, and I certainlly did not pick them in my bracket. The FGCU team, however, took us all by surprise with their midair  acrobatics, dunks, blocked shots and three point baskets. The team seemed to have amazing chemistry and timing that led to so many lay-ups and slams. I understand that the foundation of all those magical plays starts with exceptional balance skills.
Balance Exercises For College Basketball
    Balance exercises are at the foundation of higher level abilities such as gliding through the air for a lay up or dunk. One exceptional aspect of stability exercises is that you can practice them anywhere. Additionally, equilibrium exercises can be initiated at a basic level and then progressed to very high levels. Steadiness rouutines can be made more difficult by following the principles of begining on flat and stable surfaces, thenn advancing to uneven and unstable surfaces. Balance equipment that challenges balance skills includes balance boards, the BOSU or the red disc. Balance exercises can be further advanced by adding dynamic movement too static  holding. Combining those two components of balance skills can be very challenging.
Balance Exercises In The Exercise For Balance DVD
    For whatever your activity level is or balance needs are, begin balance exercises with the Exercise For Balance DVD. The Balance DVD can be used at your own pace and at home or in a group setting. The DVD can be applied to all levels of activities and is loaded with the best balance and strength exercises needed to enhance senior fitness and to perform basic activities like walking, standing, stair climbing or to advance to high level activities like basketball, dancing and hiking. In the Exercise For Balance DVD, you will learn in a clear presentation how to improve balance, balance techniques and balance routines from a balance trainer (licensed Physical Therapist) who has worked with balance and dizziness disorders for over 20 years. Get your copy of the Exercise For Balance DVD by clicking on the BUY NOW button
This entry was posted by Exercise For Balance on April 2, 2013 at 1:27 am, and is filed under Uncategorized. Follow any responses to this post through RSS 2.0. Both comments and pings are currently closed.
Comments are closed.